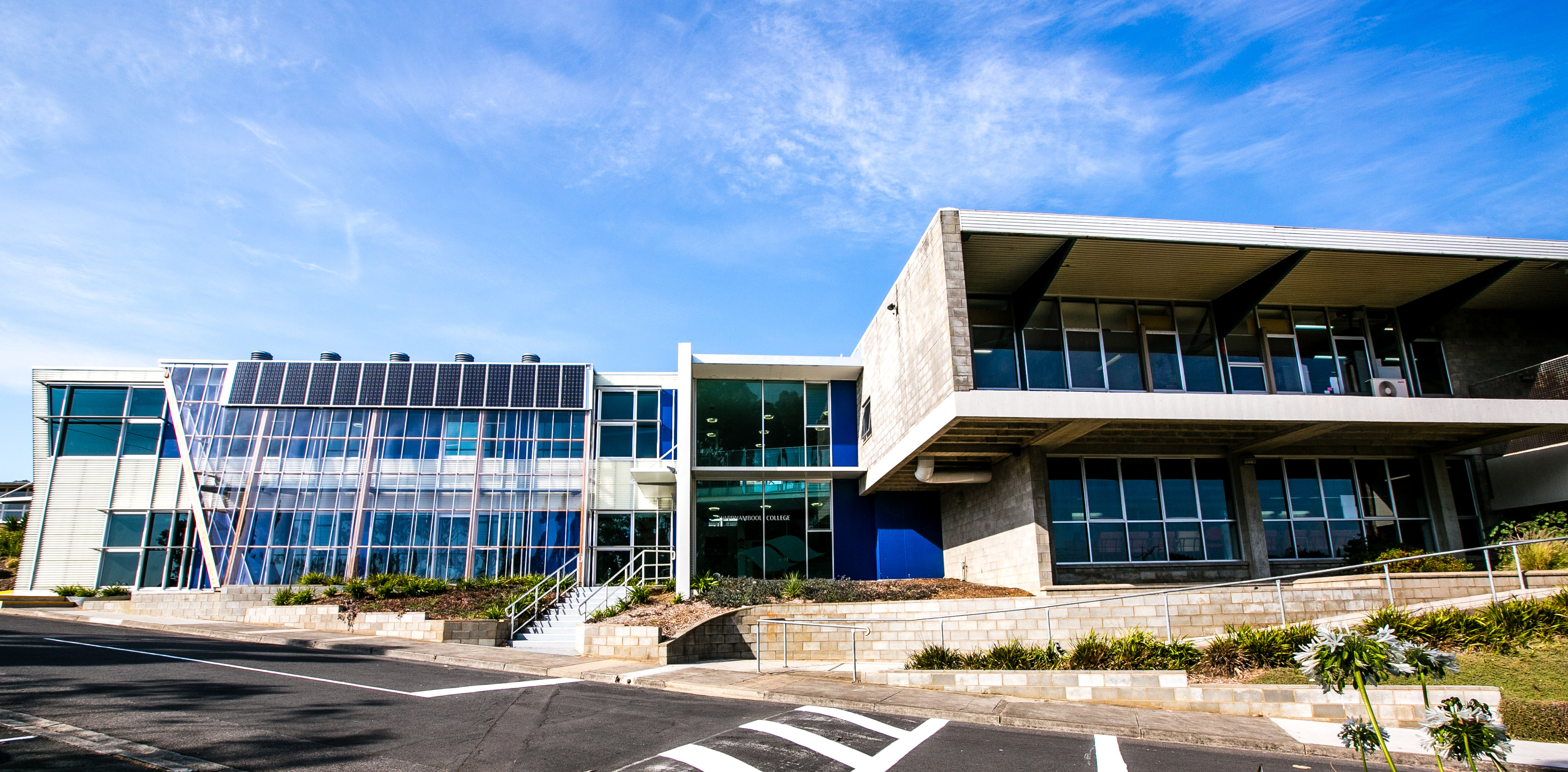 Warrnambool High School opened on 18 June 1961, after a long period marked by 'the continual expansion of numbers … periods of acute overcrowding and the long fight for the new building.' Despite the new accommodations, student numbers continued to grow too large for the new spaces provided, with 476 students enrolled at the beginning of 1962.[1] Growth in numbers and the lack of space continued to be a continual concern over the next several decades and resulted in the repeated additions, extensions and improvement of facilities.
In 1994 further changes occurred, with the State Government-enforced merger of the Warrnambool High with Warrnambool North Technical School to form Warrnambool College, with over 1300 students in its first year. Warrnambool College continues to experience growth and recently has received $8.6 million dollars in joint State Government funding, shared with another Warrnambool high school, Brauer College, in order to further upgrade and expand facilities to meet twenty first-century learning.
Today the College has over 1200 students undertaking years 7 to 12 at its two campuses: the main campus at Albert Park and a satellite school – WAVE (Warrnambool Alternative VCAL Education) in the centre of the city. The College emphasises a 'whole school' approach, involving the support of students' learning by parents, teachers and the wider community. The Warrnambool College Way is the school's teaching and learning philosophy that seeks to provide a holistic approach to education, with components that build on each other, from the school houses to curriculum design to digital technology use to modes of learning.
Students are able to choose from a number of focused pathways that are followed throughout their schooling, including English, Maths, Science, Health & PE, LOTE, Humanities, Arts and Technology. The school also offers the only Sporting Pathway Program in regional Victoria, VCAL options including school-based apprenticeships, academies for Indigenous students, and a variety of co-curricular opportunities including a music program and sporting academies.
The school community continues to attract students from areas outside the city of Warrnambool, with many coming from nearby farming areas and rural towns. In terms of cultural diversity and the composition of the student population, it has a small number of students with a language background other than English, and the school emphasises its international connections through sister schools in Indonesia, China and France. The school has a significant percentage of Indigenous students and seeks to emphasise the Indigenous heritage of the region throughout its programs.
[1] Regina Hando, The School on the Hill: Reminiscences on the 75th anniversary of Warrnambool High School (Warrnambool: Warrnambool High School, 1982), 38.
[On what they like about the school] All my friends sort of came here from primary school and it's just a really close sort of school. Like it's not too many people or anything and you sort of know most of the people here. (Student)

They want to make it a good place for everyone, … make everyone feel welcome here and make it a good place to learn, easy place. … they value kids and how they feel about school … (Student)

Warrnambool College, I would say it's fantastic. … it's a good school … there's so many opportunities … for every student, so we've got … a really good sports program and … arts, we've just got a new art centre, … for our art design and product design and all that sort of stuff. (Student)

… we've got this thing called the Wellbeing Centre at school which is fantastic. So even if you have … have problems … or if you've just been like really teased or stuff like that, the school will follow it up straight away. (Student)
References & Further Reading
Regina Hando, The School on the Hill: Reminiscences on the 75th anniversary of Warrnambool High School (Warrnambool: Warrnambool High School, 1982)
Jarrod Woolley, 'Warrnambool Schools Receive State Cash Boost', The Standard, 27 April 2006, http://www.standard.net.au/story/3873042/warrnambool-schools-receive-state-cash-boost/
Warrnambool College Prospectus
Warrnambool College Website
Ray Welsford, 100 Years of Service: A Centenary History of Warrnambool College (Warrnambool: Ray Welsford, 2007)
Save
Save
Save
Save
Save
Save
Save
Save
Save